Birthday Parties and Celebrations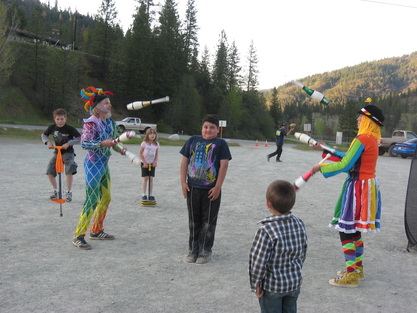 For Birthday Parties you are sure to enjoy a variety of fun and games including 6ft. unicycle entrance with rainbow Umbrellas, Juggling of various objects, Unicycling, Interactive Games like red light clown light, Animal Balloons, Torches, Hoola Hoops, Parachutes, Balls, and a Dragon or two. We can integrate your parties theme or childs' interest into our performance and play.
The Birthday Star may lead some of the performance as we invite the others join in.
Whether you hire one or both of us all ages will be amazed and have fun celebrating with Circus Nature.

For Larger events including Grand Openings, Company Picnics, Weddings,Holidays, School Functions, Business Parties etc. we bring more toys,games and Spectacular Performances that are one of a kind and fun for all ages!
​
​
​
Circus Nature Wizards of Play
​
A.O'Kay Clown
Nani Nature Clown
P.O. Box 251 Willow Creek, Ca. 95573(707) 499-5628
(530)623-7058
Or Email:
aokay@aokayclown.com
circusnature@circusnature.com
We would happily adapt this proposal to suit the needs of your event.Yours in Peace & Play, A. O' Kay & Nani Nature
---